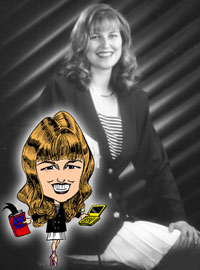 In the description for our custom-designed, on-site project management seminar, we mention that everyone, at some point, manages a project, whether it's a wedding, a student project, or a home-improvement project. Because of this description, we often see searches for "wedding project management" in our web statistics. 
Having recently planned a wedding, I'd like to share five tips that may be of benefit to those just starting to plan their wedding day.
Buy a round-ring binder and a set of at least eight tabs. You can find these at OfficeDepot, OfficeMax, or Staples. Although I used a one-inch binder, I would strongly recommend at least a two-inch binder. (The bigger the wedding, the bigger the binder should be.) Even though I would have preferred keeping everything on the computer, the notebook was a necessity as I gathered paperwork from each potential vendor. You will be carrying this binder around everywhere, including your wedding day. (Believe me, I ended up needing it because the caterer misplaced our food order, and the maid of honor had to call to see why the food hadn't been delivered to the reception hall when we arrived. We did call the day before the wedding to make sure that everything was set, and they somehow lost the order during those 24 hours.)
My favorite online wedding resource is the Wedding Channel. It includes a well-defined, online check list that shows you what should be completed by a certain time in your project management time line. It also includes a guest list manager, which helps you keep track of who is attending and the gifts you have received. The site also has a budget calculator, which helps you stay within your budget. Moreover, if you're interested, you can receive information from local wedding-related vendors; I actually did not find any of my vendors in this way since most of the "local" vendors were at least an hour away from where we wanted to have the wedding.
The Knot is also an excellent resource when planning your wedding. I preferred the Wedding Channel overall, but this site also has the online check list, the guest list manager, a budget calculator, and a wedding web page. (The pop-up ads are annoying at The Knot, and I was also annoyed that they continued to market to me with newlywed information after my wedding.)
I would highly recommend reading Bridal Bargains if you are on a limited budget. There is also a web site for Bridal Bargains. My original plans for my wedding gown were scrapped when I read this book, and I ended up buying a beautiful yet inexpensive wedding gown that received rave reviews from those attending the wedding.
DIY Bride (Do-It-Yourself Bride) is another excellent resource. It contains a download section, which I found particularly useful because of yet another checklist that I downloaded to keep in my notebook as well as a template for the web site we used for our wedding information.
The most surprising thing I learned from planning a wedding is that the vendors expect that the bride is the one in charge. At the chapel, the bride was always listed as the contact person and not the groom. Also, I know very little about photography while my husband does, and yet the photographer's assistant continued to call me with questions.
One thing to note is that no matter how much you plan, things do go wrong. For example, the construction on my original reception hall was delayed, which made the hall unavailable for my wedding reception; I didn't learn of this construction until after the invitations were printed. The food, as noted earlier, was two-hours late and cold; I knew the time line so well that we just cut and then served the wedding cake.  So, when things go wrong at your wedding, let them eat cake!
Melanie L. Drake focuses on the publishing and marketing sides of the AchieveMax® company. AchieveMax® professional, motivational speakers provide custom-designed keynote presentations, seminars, and consulting services on change management, creativity, customer service, leadership, project management, time management, teamwork, and more. For more information on AchieveMax® custom-designed seminars and keynote presentations, please call 800-886-2629 or fill out our contact form.