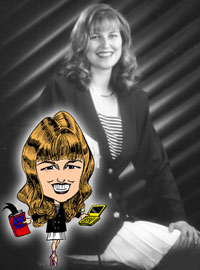 In a previous article in this series, I discussed plugins for WordPress, which are tools to extend the functionality of WordPress, that will help you as a webmaster of a WordPress blog. This article will discuss a number of plugins to help your readers enjoy your blog and web site.
The FeedBurner FeedSmith plugin makes it easy to redirect 100% of traffic for your feeds to a FeedBurner feed you have created. FeedBurner can then track all of your feed subscriber traffic and apply a variety of features you choose to improve and enhance your original WordPress feed. Some of the FeedBurner functionality includes the reader's ability to easily e-mail articles, subscribe to the feed, and add the articles to Digg, Del.icio.us, Facebook, StumbleUpon, Newsvine, or Netscape (Propeller). Feedburner also allows your readers to subscribe to your feed via e-mail instead of through an RSS reader.
2. Gregarious
Gregarious, a social bookmarking plugin, allows users to submit and comment on web sites. The Gregarious plugin allows for seamless integration between your WordPress blog and social bookmarking sites such as Digg, Del.icio.us, Reddit, and more. It also allows your readers to e-mail your articles to a friend. If you are not using Feedburner, Gregarious is a good alternative to give your readers easy access to social bookmarking sites and e-mail functionality.
I searched for months for a plugin like Include Me In That. Since our site is now a decade old and information is plentiful, I wanted to help our readers find similar articles of interest and to unite content from our blog on WordPress and our web site newsletter, which the blog basically replaced. This plugin allows you to include external HTML files in any post. You just add some code into the post in the position you want the file to appear. You can see this plugin in action at the end of many articles in the blog. I am also using it for the author information at the end of each article so that if I need to change something in the biographical information, I only need to do it once to change it on all pages of the blog. I did experience a few issue with Feedburner when implementing the plugin and found that simple text files or html files with minimal html coding work the best. It did take a few days to set up all the files and add the code to the pages, so if you don't have much time, I'd suggest the following plugin.
Before I found Include Me In That, I was using If You Liked That. At the end of each post, this plugin inserts links to a user-selectable number of other posts in the same category as the main post. This is a simple tool for you to add to help your readers find related content. Although I use Include Me In That now instead of If You Liked That, I'd recommend this plugin for its ease of use. 
5. SimpleTags
The SimpleTags plugin allows you to create a list of Technorati tags at the bottom of your post by providing a comma separated list of tags between the [tags] tags. These tags help your readers find additional blog articles on the same topic as your article. If you are using Windows Live Writer, you can set your tags for various web sites such as del.icio.us, Flickr, IceRocket, Live Journal, and Technorati instead of using this plugin.
"Beginner Business Blog: Top Reader Plugins for Your WordPress Business Blog" is part three in a series of blog articles designed to help you start your own business blog.
Melanie L. Drake focuses on the publishing and marketing sides of the AchieveMax® company. AchieveMax® professional, motivational speakers provide custom-designed keynote presentations, seminars, and consulting services on change management, creativity, customer service, leadership, project management, time management, teamwork, and more. For more information on AchieveMax® custom-designed seminars and keynote presentations, please call 800-886-2629 or fill out our contact form.