With the new year just around the corner, it's pretty safe to guess that a good many people will be dragging out their New Year's resolutions from last year, dusting them off, and making preparations to break them all again within the week. Well, this year we've decided to help you better prepare for this traditional exposure to stress by providing you with two small, but powerful, tools that may very well impact your outcome in a more positive way.
Procrastination always seems to be a major factor in preventing our attempt to successfully complete our well-intentioned resolutions.
The first half of our one-two punch is truly understanding what procrastination is. You must know it to conquer it. Therefore, let's take a look at the official definition of procrastination:
There are so many wonderful, fine, lovable and so-called ambitious people in today's society who are always about to commence to begin pretty soon before very long to getting around to doing something just after they finish something else!
How many times have you procrastinated merely because you simply never got around to doing what you knew you should be doing? We've all faced that challenge at one time or another. Never again! The second half of our one-two punch will solve that problem forever. You are now the proud owner of a Round Tuit. READ – HEED – and SUCCEED.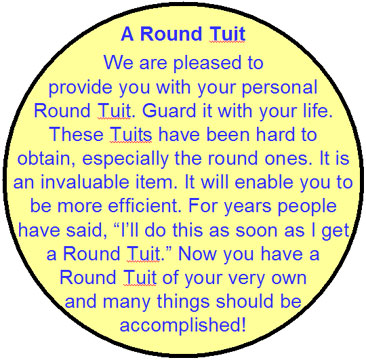 Harry K. Jones is a motivational speaker and consultant for AchieveMax®, Inc., a company of professional speakers who provide custom-designed seminars, keynote presentations, and consulting services. Harry's top requested topics include change management, customer service, creativity, employee retention, goal setting, leadership, stress management, teamwork, and time management. For more information on Harry's presentations, please call 800-886-2629 or fill out our contact form.