It was two years ago that we published our first blog article. Our opening paragraph read:
Welcome to the AchieveMax® Blog … the blog created to provide you with the latest buzz from the business world in addition to a constant offering of C.A.N.I. (Continuous And Never-ending Improvement) tips, tools, and strategies.
We created the blog at the request of many clients who wanted access to more of the kind of information they were finding in our seminars and keynote presentations. We were more than pleased to accommodate those requests.
However, prior to that cold December two years ago, I thought a blog was something that happened to your sink which required the services of a plumber.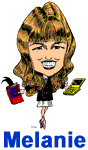 Enter Melanie Drake … a very talented and experienced webmaster and AchieveMax® Vice President, boasting more than 15 years of web marketing, graphic design and blog development. During her career, Melanie has served as editor of various publications, such as the Michigan Times and Kwasind literary magazine. She is also the past Director of Publications of the Mid-Michigan Chapter of the American Society of Training and Development (ASTD). Melanie is currently the editor and designer of the articles on the AchieveMax® blog. In short, she makes it all come together.
In two short years, we have produced close to 450 articles in 19 various categories and are currently approaching 200 book reviews on our web site.
I share all of this for several reasons.
To introduce Melanie to our rapidly growing audience of readers.
To thank her for a tremendous contribution that has provided our readers with a great deal of information which they obviously appreciate and support. Considering that she has been on maternity leave, it took a good deal of planning for the blog to continue seamlessly for our readers while she has been away.
To encourage our many readers to expose themselves to a somewhat unknown benefit of our blog. I mentioned the appreciation and support of our readers not as an assumption but as a result of the feedback we've received from coast to coast in the U.S. and from many others worldwide.
The unknown benefit I mentioned is easily overlooked even though it's readily available to everyone. After each article on the blog, you'll see the word "Comments." Click on this link and you'll find a very simple form which enables you to make a comment concerning content or ask any questions you may have about the articles.  If there is a number such as "(2)" after the word "Comments," you'll know that two readers have shared their thoughts or asked a question about that particular article.

I encourage you to investigate these comments as I am constantly amazed and impressed by the experience, intelligence, and observations of our readers. I have found their comments to be very informative, humorous, and revealing and am certain you will as well.
If you're interested in reading all of the comments, simply click on the "Comments" link in the upper right corner of the opening blog page.
Of course, we also encourage YOU to continue to share your thoughts and opinions with us as often as you feel the urge to do so.
Finally, we thank you for your continued support, response, and participation in our efforts to keep you informed, educated and entertained.
Harry K. Jones is a motivational speaker and consultant for AchieveMax®, Inc., a company of professional speakers who provide custom-designed seminars, keynote presentations, and consulting services. Harry's top requested topics include change management, customer service, creativity, employee retention, goal setting, leadership, stress management, teamwork, and time management. For more information on Harry's presentations, please call 800-886-2629 or fill out our contact form.