Earl Nightingale may have done more to influence and inspire more of the nation's leaders than anyone else could ever hope to do. He was an American motivational speaker who is known as the Dean of Personal Development and as one of the greatest thinkers and inspirational men of time.
Although he died 20 years ago, he continues to inspire people worldwide with his timeless wisdom and unusual ability to communicate and captivate audiences of all ages.
Earl Nightingale was on the USS Arizona during the attack on Pearl Harbor. After the war Nightingale began work in the radio industry, which eventually led to work as a motivational speaker. In 1956 he produced a spoken-word record, The Strangest Secret, which sold over a million copies, making it the first spoken-word recording to achieve Gold Record status.
The combination of his extraordinarily distinctive voice and his powerful life-changing story continues to inspire listeners everywhere. About this time, Earl met a successful businessman by the name of Lloyd Conant, and together they began an "electronic publishing" company which eventually grew to become a multimillion dollar giant in the self-improvement field. They also developed a syndicated, 5-minute daily radio program, Our Changing World, which became the longest-running, most widely syndicated show in radio.
The following link will take you to a Google site where you can experience this mesmerizing voice and inspiring message. The video is more like a still photograph, but you'll certainly appreciate the voice and message. It takes 31 minutes and 35 seconds to hear the entire piece, but you can at least sample this rare classic to understand its long-lasting attraction.
It appears that Earl was destined for greatness at a very early age. His childhood challenges led him to adult greatness, enlightenment, and success. As a Depression-era child, Earl Nightingale was hungry for knowledge. From the time he was a young boy, he would frequent the Long Beach Public Library in California, searching for the answer to the question, "How can a person, starting from scratch, who has no particular advantage in the world, reach the goals that he feels are important to him, and by so doing, make a major contribution to others?" His desire to find an answer, coupled with his natural curiosity about the world and its workings spurred him to become one of the world's foremost experts on success and what makes people successful.
After the war, Earl went to work for KTAR in Phoenix. Radio was in its "hay day," and with Earl's talent, it wasn't long before he moved to where the heart of the action was—Chicago, Illinois. Offered jobs at both NBC and CBS, he went to work for CBS, where he quickly became a legendary icon to kids across the nation, as the voice of radio hero, Sky King. When he wasn't flying through the sky in his airplane, The Songbird, or riding off on his horse to round up the bad guys, Earl was busy writing and broadcasting his daily radio, and later, television show, from the broadcast stations in the Windy City.
Later, expanding his horizon, Earl bought a small Franklin Life Insurance agency, where each Saturday morning, he would give little pep talks to the salesmen, hoping to inspire and motivate them to be the best salesmen they could be.
One day, Earl told his office manager that he planned to take a fishing vacation and would be away for a few weeks. Because the salesmen relied so heavily on their weekly pep talks from Earl, the manager expressed concern that sales would drop during Earl's absence. Earl came up with the idea to record something that could be played while he was gone.
Earl thought about what he might write, and turned the question over and over again in his mind. Then, one night, a short time later, he woke up and knew exactly what he wanted to say. He got up, went to his typewriter and wrote a short message. The next morning, he recorded the message and pressed it on a record. The message contained the most valuable information Earl had ever learned—a conclusion of truth that he had searched for and found in every book he'd ever read since he was a child of nine. Of course, he hadn't recognized this … truth, during those long years of self-education, because he had been looking for something else—the answer to the question he had asked his mother when he was little, why they were so poor, and what made people turn out the way they do.
His enlightenment had come when he was 29, while working at CBS. He happened to be reading, Think and Grow Rich, when he read the words, "we become what we think about." Suddenly, like a bolt out of the blue, he realized that he had been reading the same truth over and over again, from the New Testament, in the sayings of Buddha, in the writings of Lao Tse, to the works of Emerson. "We become what we think about." "As ye sow, so shall ye reap."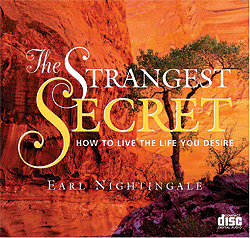 So, it was from this enlightenment that Earl wrote his classic, The Strangest Secret. He said he called it that, because of the irony of it all—that this truth of why we become, whatever it is we become, is no "secret" at all, and therefore, it's "strange" that we don't all know about it!
Earl gave the recording to his manager and left on his fishing trip. When he returned, he was amazed at the reaction to the message. Everyone who had heard the record, wanted one for themselves. Earl pressed more records for the salesmen. The salesmen played it, not only for themselves, but for their families and friends, and when the others heard it, they wanted one too.
The Strangest Secret went on to receive a Gold Record—the only recording of its kind to ever go Gold.
Meanwhile, Earl Nightingale's success as a radio and later television personality continued to grow, as did the demand for him as a speaker. Earl's radio program, Our Changing World, became the most highly syndicated radio program ever, and was heard across the US, Canada, Mexico, Australia, New Zealand, Fiji, South Africa, the Bahamas, 23 countries overseas, as well as the Armed Forces Network.
In 1985, Earl was inducted into The Association of National Broadcasters, Radio Hall of Fame.
During his lifetime, Earl Nightingale wrote and recorded over 7,000 radio programs, 250 audio programs as well as television programs and videos.
In the mid-eighties, Earl wrote his first book, Earl Nightingale's Greatest Discovery for which he received the Napoleon Hill Gold Medal for Literary Excellency.
Today, Earl Nightingale is remembered as the greatest philosopher of his time, and his best-selling programs and books continue to sell daily, and inspire new generations around the world, to reach their highest potential.
Here are some examples of Earl's wisdom that will live on for decades to come:
The mind moves in the direction of our currently dominant thoughts.
We become what we think about.
We tend to live up to our expectations.
The biggest mistake that you can make is to believe that you are working for somebody else. Job Security is gone. The driving force of a career must come from the individual. Remember: Jobs are owned by the company, you own your career.
Whatever we plant in our subconscious mind and nourish with repetition and emotion will one day become a reality.
You are, at this moment, standing, right in the middle of your own "acres of diamonds."
Everything in the world we want to do or get done, we must do with and through people.
People are where they are because that is exactly where they really want to be—whether they will admit that or not.
Harry K. Jones is a motivational speaker and consultant for AchieveMax®, Inc., a company of professional speakers who provide custom-designed seminars, keynote presentations, and consulting services. Harry's top requested topics include change management, customer service, creativity, employee retention, goal setting, leadership, stress management, teamwork, and time management. For more information on Harry's presentations, please call 800-886-2629 or fill out our contact form.