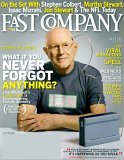 It doesn't matter if you're a globe-trotting corporate CEO or a frustrated cubicle dweller dealing with the day-to-day business challenges on the front lines … you should be reading FAST COMPANY. This magazine has been an informative and vital voice of the changing business industry since 1995.
I often poll audiences at seminars or keynotes to see how many people are aware of this tremendous resource, and I continue to be amazed at the results I get. A good number of those in attendance have never heard of the magazine even though it's been around for well over a decade. Those who acknowledge their familiarity with FAST COMPANY go on to share that they have been reading it faithfully for years and find it an extraordinary asset for a variety of reasons.
FAST COMPANY is a full-color monthly business magazine that reports on innovation, digital media, technology, change management, leadership, design, and social responsibility. As our competitive global business environment has continually changed, so too has this cutting-edge publication. For instance, I often review past issues in my research on various projects. I recently came across a June 2000 issue that contained 419 pages. That was very typical in those early years. The average copy today will average anywhere from 12 to 15 pages. However, you still have access to a vast amount of material via perpetual linking suggestions and access to a state-of-the art web site. I have witnessed constant changes in page size, number of pages, format, design, features, and leadership. It's obvious that these changes were not made for the sake of change but rather to keep abreast of publishing challenges in this day and age of rapid change and on-going chaos. I salute them for doing what more businesses and organizations should be doing … changing with the times. Some of those changes, of course, were a result of earlier mistakes. They've been criticized by many for a variety of reasons. However, they've made changes, tried new approaches, bounced back and continue to improve. For instance:
Fast Company is a beacon to new industries, especially those tied to the internet.
Regardless of your industry, you'll find smart attitudes and information that provide the particulars of leadership and organization.
There seems to be something for everyone as they offer current news, cultural commentary, business reporting, and entrepreneurial insights.
You'll find on-going tips and strategies for working in teams.
You'll read very candid interviews with leaders of today's leading-edge companies.
It's thought provoking, explores all sides of complex issues, but never tells you what to think.
You'll discover practical tools and tactics from must-have gadgets to how to handle an ever-growing volume of e-mail.
You'll find out what's happening all over the cover from Wall Street, Silicon Valley, Harvard, and even Las Vegas.
It's been dubbed the Fortune Magazine for today's generation.
It's considered the bible for those working for themselves.
Fast Company debunks old myths and discovers new legends.
It features smart people working in smart companies while still having serious fun.
As if all that weren't enough, check out the web site at www.fastcompany.com. You can read the entire magazine online before taking advantage of all the other bells and whistles. In addition, check out such other features as the archives, dozens of online guides (collections of previous articles), the blog, podcasts, readers network, the Fast 50, the Fast companies database, and events.
It also has a variety of resource centers that include: leadership, innovation, talent and careers, sales and marketing, learning, design, networking, travel, and technology. Talk about one-stop shopping for information. This is it. There are many other features, but you should check those out yourself. You won't regret a visit to this site.
You can also take advantage of all the benefits available to those who join "The Company of Friends," which is Fast Company magazine's readers' network. It's a global online and offline community of self-organizing groups of forward-thinking business leaders and innovators. Members help each other improve their career, companies, and communities. There's no charge at all and you can learn more about it by going to www.fastcompany.com/cof and checking out their FAQs.
Bottom Line … Fast Company is the magazine for a generation of business leaders with high expectations of their companies—and even higher expectations for themselves. You owe it to yourself to at least take a glance at this potential powerhouse of information.
Harry K. Jones is a motivational speaker and consultant for AchieveMax®, Inc., a company of professional speakers who provide custom-designed seminars, keynote presentations, and consulting services. Harry's top requested topics include change management, customer service, creativity, employee retention, goal setting, leadership, stress management, teamwork, and time management. For more information on Harry's presentations, please call 800-886-2629 or fill out our contact form.