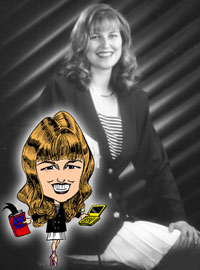 What if I told you that your employee gave me the best customer service … by referring me to your competitor? You'd be more than a little unhappy, wouldn't you?
Recently, while trying to buy paint at a national retail chain, my husband and I asked an employee what we needed to do to get our paint colors mixed. No one was at the paint mixer machine, and we had to hunt down someone in the appliance area.
The kind, gray-haired employee responded, "Oh, the paint mixer is down again. It would be like a real store if they had two mixers now, wouldn't it?"
Hmmmm … was that sarcasm? Did he actually just slam his own employer?
"Uh, yeah," I hesitantly nodded in agreement.
"So when will the mixer be working again?" my husband asked. We were set on buying the paint at this store because out of all the stores we had visited, this store had the color samples we most liked. It just made sense to us that we would continue to visit this store as we painted rooms in our house, we would pick out the new room colors from paint chips at this store, and then we would get the paint mixed here. Although I hadn't visited this particular store location many times, I was a long-time, loyal customer of this retailer.
"Oh, the mixer is down all the time," the customer-service representative responded. "I don't know when it will be working again. You probably wanted the paint right now, didn't you? It's the weekend after all, and you wanted to paint this weekend."
"Of course," we nodded.
"You know, if I were you, I would go to Home Depot. That's where I go. They can match any color you want."
And you know what? Home Depot, which is right across the street, has two paint mixers as well as two employees who mixed the paint up to not quite the right color but close enough.
So, why would your employee refer a customer to the competitor? Let's look at this example a little closer.
The employee both as an internal and external customer was frustrated that the paint mixer was repeatedly down. It was apparent that many people have asked him about the paint mixer in his role as a representative at the store and that he, as a customer, had encountered the same problems. It was also obvious that he or another employee had given management feedback about the mixer not working and the need for a second mixer. Management, for whatever reason, had decided that a second mixer was not needed.
To be honest, I no longer visit this particular store. From my perspective, they lost my purchase of at least $400 in paint supplies to Home Depot. And, unfortunately, they lost my purchase of new drapes, new clothes, new cookware, and new outdoor supplies to other retailers such as Kohls and JCPenney. So, while it might appear that this retailer only lost one purchase of less than $100, it easily lost thousands of dollars worth of purchases over my lifetime. If you multiply that number by the countless other frustrated customer trying to buy paint at this store, I'm sure this retailer could have easily bought ten paint mixers.
I will admit that I can be a fiercely loyal customer, or I can go out of my way to tell everyone how lousy of an experience I've had. Although I am not a customer-service expert, I have learned much about what it takes for any company to have good customer service, both internally and externally, as an employee of a company that presents seminars and keynote presentations on customer service and customer satisfaction. But then again, I don't think it takes a customer-service expert to see that the management of this store should listen to its employees and ask them for feedback on issues they see on a daily basis. In this competitive market, it's important to see problems like this before your customers see them … and before your employees tell your customers to go to the competitor.
Melanie L. Drake focuses on the publishing and marketing sides of the AchieveMax® company. AchieveMax® professional, motivational speakers provide custom-designed keynote presentations, seminars, and consulting services on change management, creativity, customer service, leadership, project management, time management, teamwork, and more. For more information on AchieveMax® custom-designed seminars and keynote presentations, please call 800-886-2629 or fill out our contact form.