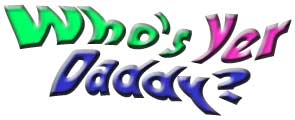 Are you Dollar Dazed?
The everyday "Dollar Store" is actually anything but. Most everyone accepts these discount havens as being a nationwide chain of relatively small, convenient stores where you can buy most anything for a buck. In reality, there are a vast number of chains that fall into that category. Regardless of what name you may see on the store, we tend to call them all "Dollar Stores."
Some of those chains include:
The Dollar Tree
It began in 1986 in Chesapeake, Virginia, and currently boasts 3,156 stores in 48 states. Everything is one dollar or less.
Family Dollar
It began in 1959 in Charlotte, North Carolina, and currently boasts 6,000 stores in 44 states. Much merchandise is one dollar, but they also carry products which sell for more than a dollar.
Dollar General
It began in 1955 in Goodlettsville, Tennessee, (suburb of Nashville) and currently boasts 8,164 stores in 30 states, selling products for one dollar and less.
Liberty Dollar Store
It began in 1983 in Conway, Arkansas, and currently boasts 2,000 stores in 50 states and 23 countries.
Fred's Super Discount
It began in 1947 and currently boasts 683 stores in 15 states.
Those five chains alone account for 20,003 Dollar Stores!
The list goes on and on, but we don't have the space here to list them all. However, a few others would include My Dollar Store, Allied Dollar Store, Dollar Castle, 99 Cents Only Store, Deal$, Dollar Discount Store, Dollar Deals, Dollar Depot, Dollar, Dollar Value, Dollar Bill$, Dollar Express, Dollar Daze, and Greenbacks. Are you starting to get the picture? These stores are big business all over the world.
For many Baby Boomers, the typical Dollar Store will convey vivid memories of what was once known as "five and dime" stores. It might be difficult to convince today's generation that you could actually purchase something for a nickel or a dime, but these popular stores were a mainstay all across our nation. Stores such as Woolworth's, Grant's, Kresge's (later K-Mart), McCrory's, Newberry's, and Ben Franklin were destinations for many families from coast to coast. Inflation eventually dictated that the stores were no longer able to sell any of their products for as little as five or ten cents so they soon became "variety stores." In fact, Wal-Mart, the world's #1 retailer today, can be traced back to its humble beginnings as "Walton's 5-10 Store." They grew from the original store in Arkansas to a world-wide chain of 6,722 stores in 14 countries employing 1.8 million employees and generating $348 billion in revenues! That's a lot of DOLLARS!
The average "Dollar Store" today appears to carry just about everything under the sun. It's indeed difficult to walk out of a Dollar Store having purchased just one bargain. I've heard many people point out that they really didn't need what they bought — they just couldn't pass up that price! By the way, don't misjudge the success of these small operations. Consider the growing number of locations, the increasing customer count, our troubled economy, and the fact that many of these establishments are just as profitable, per square foot, as many of our much larger, well-known, very exclusive, franchise or brand-name chain stores that have a much greater overhead to contend with.
Many have wondered how in the world these stores could possibly afford to sell their products, many brand-name, for such a low price. There are several reasons they can do this:
Many products you find in these stores are actually a generic or "knock-off" product. They're actually manufactured specifically for such stores.
A certain percentage of the products were manufactured to coincide with the promotion of a motion picture, special holiday, a television special, or special event (Olympics, World Series, Super Bowl, etc.) and are past their prime.
Other products are purchased from another retail chain or distributor as overstock, closeout merchandise, or seasonal merchandise at the end of the season.
Some products were manufactured inexpensively for a foreign market but were then imported by an unauthorized distributor.
It's all good merchandise but can be sold for a lower cost for any of the above reasons. While many of us don't even notice the actual name on the building we frequent for these great deals, we certainly enjoy the experience of browsing for bargains and especially saving money in the process at what we simply call "The Dollar Store."
Harry K. Jones is a motivational speaker and consultant for AchieveMax®, Inc., a company of professional speakers who provide custom-designed seminars, keynote presentations, and consulting services. Harry's top requested topics include change management, customer service, creativity, employee retention, goal setting, leadership, stress management, teamwork, and time management. For more information on Harry's presentations, please call 800-886-2629 or fill out our contact form.