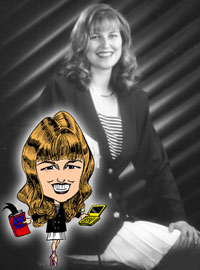 After installing WordPress to your server, you're probably ready to start blogging away.  However, before you write your first article, you'll want to look at some WordPress plugins, which are tools to extend the functionality of WordPress. Plugins allow you to customize your site based on your specific needs.
The following six plugins will help you as a webmaster to keep your site running smoothly. The next article in this series will discuss a number of plugins to help your readers enjoy your site.
1. Akismet
When I originally set up the blog, I chose to make everyone register to post a comment, thinking that alone would stop spam comments. Unfortunately, the spam comments came in immediately, and it was becoming increasingly time consuming to read through 100 spam comments a day.
I ended up adding the plugin for Akismet, which checks your comments against the Akismet web service to see if they look like spam or not. Since Akismet is installed with WordPress, all you need to do is enable it and get a wordpress.com API key to use it. You can review the spam it catches under the "Comments" tab in your control panel. Akismet has found more than 30,000 blog comment spam since it was installed about six months ago. That's an average of 5,000 spam comments a month or 167 comments a day.
2. Math Comment Spam Protection
Although Akismet separates real comments from spam comments, it still allows all comments through for you to view and then delete. As a result, I added the Math Comment Spam Protection plugin, and it has cut down on the amount of spam comments I receive to just a few a week. This plugin asks the visitor making the comment to answer a simple math question, which helps prove that the visitor is a human being and not a spam robot. You can see this plugin in action down by the comment field of this article.
3. Simple Trackback Validation
The Simple Trackback Validation plugin eliminates spam trackbacks by first checking if the IP address of the trackback sender is equal to the IP address of the webserver the trackback URL is referring to and second by retrieving the web page located at the URL used in the trackback and checking if the page contains a link to your blog. Since adding this plugin and the Math Comment Spam Protection plugin, my spam level has dropped to only a few messages a day. This plugin works with Akismet so you can still look through the trackbacks before deleting them.
4. Widgets
When I first started using WordPress, it was frustrating to have to edit the code by hand in order to get the sidebar set up the way I wanted it. After I had everything set up the way I wanted it, I found the Widgets plugin, which allows you to move things (widgets) around, in and out of your sidebar. A widget is something that you might want on your sidebar, such as a category list, recent posts, recent comments, a calendar, links or search. No coding is involved, and you can drag each section to put it in the order you'd like. There is the additional functionality that you can create your own text widget with html. I was hesitant to try it since I had already spent quite a bit of time hand coding the sidebar file, but after trying it, I would strongly recommend it. (As of version 2.2 of WordPress, Widgets are automatically loaded with your WordPress installation.)
The SEO Title Tag allows you to define a custom title tag for your home page, and you can put the blog title after the article title or not at all.  For example, Harry's article on leadership lessons originally had the title: AchieveMax® Blog » Leadership Lessons We MUST Pass On.  It's now customized to have the title and and blog name, in that order, for the title: Leadership Lessons We MUST Pass On » AchieveMax® Motivational Speakers Blog. You can also replace your blog name with a shorter blog nickname. Moreover, this plugin allows you to create a customized title tag for any post, static page, or category page.
6. Another WordPress Meta Plugin
Call me crazy, but I like to have complete sentences with a description of the page when I do a search. I was happy to find Another WordPress Meta Plugin, a plugin for inserting the META tags keywords and description into your posts, pages and index page. For example, with the article I wrote on wedding project management, the description is in a sentence and goes to the heart of story: Here are five tips for wedding project management. Without the META tags, the description would be: Because of this description, we often see searches for "wedding project management" in our web statistics. Having recently planned a wedding, … Of course, whether you have a META description or not, the description shown in the search results will depend on the search keyword.
"Beginner Business Blog: Top Webmaster Plugins for Your WordPress Business Blog" is part two in a series of blog articles designed to help you start your own business blog.
Melanie L. Drake focuses on the publishing and marketing sides of the AchieveMax® company. AchieveMax® professional, motivational speakers provide custom-designed keynote presentations, seminars, and consulting services on change management, creativity, customer service, leadership, project management, time management, teamwork, and more. For more information on AchieveMax® custom-designed seminars and keynote presentations, please call 800-886-2629 or fill out our contact form.