Life is often ironic. I'm sitting at my computer looking out my window at the scenic fall vista we're currently blessed with. Gentle warm breezes caress the trees as the bright autumn sun reflects off the glassy surface of the lake like sapphires. Days like this were made for strolling through the silent woods as your mind wanders endlessly. It's sometimes difficult to concentrate with a view like this, but I wouldn't trade it for the world. It's very calming after a week of airports and conference centers. I obviously digress.
The irony arises in the fact that ten miles from this tranquil autumn scene you can walk into Walmart, Target, Hobby Lobby or the mall and find yourself suddenly surrounded by aisle after aisle of Christmas decorations! Should this be your first trip, allow me to direct you to this Winter Wonderland. You'll find it situated just past the Thanksgiving aisle, which immediately follows the Halloween merchandise.
Yes, it seems as though we're being programmed to shop earlier and earlier every year for fear that we may forfeit value, price or selection by hesitating too long to plan. We've recognized that same phenomenon over the past few years as our clients are shopping early for their holiday banquets and parties, award ceremonies, annual recognition programs and Christmas parties.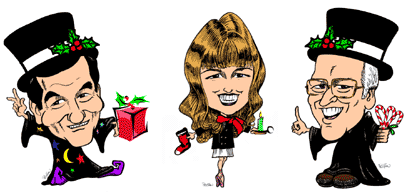 If you desire to educate, enlighten and entertain your staff while enhancing your festivities, don't hesitate to contact us early this year. AchieveMax® professional speakers will provide humor, insight, and information that will certainly enhance your personal and business life in a very positive fashion.
We recommend the following custom-designed keynote presentations for your holiday season event:
Holiday Creativity Keynote Presentations
If you want to generate great ideas and strategies for next year, you may want to consider:
Holiday Leadership Keynote Presentations
If you want to manage rapid change and develop your leaders and teams, options to think about are:
Holiday Customer Service Keynote Presentations
If you want to grow your customer base and retain the customers you already have, please consider:
Holiday Professional Development Keynote Presentations
If you want to get more things accomplished next year, think about these options:
To reserve your chosen holiday date, please call us at 800-886-2MAX or fill out our form. Remember, each holiday keynote presentation or seminar will be custom-designed to fit your organizational needs!
Happy Holidays!
Harry K. Jones is a motivational speaker and consultant for AchieveMax®, Inc., a company of professional speakers who provide custom-designed seminars, keynote presentations, and consulting services. Harry's top requested topics include change management, customer service, creativity, employee retention, goal setting, leadership, stress management, teamwork, and time management. For more information on Harry's presentations, please call 800-886-2629 or fill out our contact form.