Not everyone may know this author by name, but they've certainly been exposed to his work. He's an award-winning American journalist, columnist and author. He is an op-ed contributor to The New York Times, whose column appears twice weekly and mainly addresses foreign affairs. If you haven't actually read his articles, you've more than likely heard them discussed on almost every cable TV channel during the evening news. He has won the prestigious Pulitzer Prize three times, twice for International Reporting (1983, 1988) and once for Commentary (2002).
Thomas L. Friedman's reporter's curiosity and his ability to recognize the patterns behind the most complex global developments have made him one of the most entertaining and authoritative sources for information about the wider world we live in, and that's exactly why he's invited to join so many weekly television news panels. He definitely helps his audience see and understand the big picture which is so critical in this age of global influence.
Friedman is also the author of landmark bestsellers like From Beirut to Jerusalem, The Lexus and the Olive Tree, Longitudes and Attitudes, The World Is Flat and Hot, Flat & Crowded.
Ann and Thomas Friedman live in Bethesda, Maryland, a suburb of Washington, D.C. The July 2006 issue of Washingtonian reported that they own "a palatial 11,400-square-foot (1,060 m2) house, currently valued at $9.3 million, on a 7½-acre parcel just blocks from I-495 and Bethesda Country Club." Friedman is paid $50,000 per speaking engagement.
Friedman began writing articles while on the staff of his high school's newspaper. Upon graduating from college, Friedman joined the London bureau of United Press International. He was dispatched a year later to Beiirut where he stayed until 1981. He was then hired by The The New York Times as a reporter and was re-dispatched to Beirut at the start of the Israeli invasion of Lebanon. His coverage of that war won him the Pulitzer Prize for International Reporting.
He was assigned to Jerusalem from 1984 to 1988 and received a second Pulitzer Prize for his coverage of the First Palestinian Intifada. Afterwards he wrote a book, From Beirut to Jerusalem, describing his experiences in the Middle East. Friedman covered Secretary of State James Baker during the administration of United States President George H. W. Bush. Following the election of Bill Clinton in 1992, he became the White House correspondent for the Times.
In 2002, Friedman won the Pulitzer Prize for Commentary "for his clarity of vision, based on extensive reporting, in commenting on the worldwide impact of the terrorist threat." He is also the recipient of the 2004 Overseas Press Club Award for lifetime achievement, and has been named to the Order of the British Empire by Queen Elizabeth.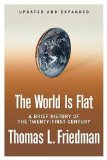 Friedman first discussed his views on globalization in the 1999 book, The Lexus and the Olive Tree. In 2004, a visit to Bangalore and Shanghai gave Friedman new insights into the continuing trends of globalization and the forces behind the process, leading him to write a follow-up analysis, The World Is Flat.
If you read only one book this year, make certain it's this one. Follow this link for our website book review: The World Is Flat: A Brief History of the Twenty-First Century.
In this revealing page-turner, Friedman demystifies our brave new world for us, allowing us to make sense of the often bewildering global scene unfolding before our eyes. His aim is not to give you a speculative preview of the wonders that are sure to come in your lifetime, but rather to get you caught up on the wonders that are already here. The world isn't going to be flat; it is flat. What Friedman means by "flat" is "connected"—the lowering of trade and political barriers and the exponential technical advances of the digital revolution have made it possible to do business, or almost anything else, instantaneously with billions of other people across the planet. He explains it all in breathless narrative and great detail dating from the year 1492 until today.
Friedman describes "The Ten Forces That Flattened the World" and "The Triple Convergence"—subjects which most of us know very little of even though both affect us in dramatic ways.
I promise you this, open this book and you become captive until you reach the final page. Upon reaching that final page, you'll understand why this author has attained such greatness. You may not agree with his politics, but you can't deny his research, observations and recommendations.
Harry K. Jones is a motivational speaker and consultant for AchieveMax®, Inc., a company of professional speakers who provide custom-designed seminars, keynote presentations, and consulting services. Harry's top requested topics include change management, customer service, creativity, employee retention, goal setting, leadership, stress management, teamwork, and time management. For more information on Harry's presentations, please call 800-886-2629 or fill out our contact form.