We're well aware of the fact that leaders in every field of endeavor find a way to read. If they can't find the time to physically sit and turn the pages of an actual book, they'll listen to a CD, utilize their Kindle on an airplane, or browse an Executive Book Summary.
As time restraints and busy schedules increase, it's very easy to simply stop reading. Successful people know this is not an acceptable alternative. Stop reading and you stop learning. Stop learning and you stop growing. Stop growing and you lose your competitive edge. While this is a Universal Truth which cannot be denied, many people have actually reduced their reading time or simply eliminated reading altogether. Let's hope they realize the error of their ways before they suffer the consequences of that choice.
For years now, we have provided book reviews for our clients and blog subscribers in hopes of assisting them in choosing the authors and content which may best service their needs. As we approached 200 book reviews, we were forced to create an entirely new format dedicated exclusively to this section.
Creating this new book reviews format turned out to be a much greater challenge than first anticipated. In fact, it took a full six months to complete. Melanie L. Drake, who focuses on the publishing and marketing sides of our business, has done a fine job of creating a much more reader-friendly format, offering many more benefits. Not only can you now view more than 200 book reviews but you can now also:
Find book reviews on a specific topic.
Comment on book reviews.
Search for book reviews.
E-mail a book review.
Share a book review with friends.
Share a book review on Facebook and Twitter.
Subscribe to the RSS feed.
Subscribe to the book reviews mailing list.
You can find the new book reviews section on the AchieveMax® website at http://www.AchieveMax.com/bookreviews/ or simply go to our blog page and click on Book Reviews in the column on the right-hand side of the page. You'll find more than 200 reviews divided into the following categories for your convenience.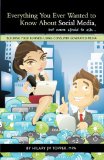 Our first book review in this new format is now available. The strong influence of the Social Media wave has grown from being primarily a pastime for kids and teens to becoming a major influence in today's competitive business world.
For this reason, we've chosen this category for our first review in our new format. A book review of Everything You Ever Wanted to Know About Social Media, but were afraid to ask … by Hilary JM Topper, MPA, is now available in our new book review section.
Take a look and learn how to build your business and personal knowledge by using consumer-generated media. In this intriguing book, the author provides some insight into a host of various web sites … many you have probably never heard of. She describes each site and, based on a great deal of research, shares the pros and cons of each as well as techniques to best tap the full potential of every site.
Harry K. Jones is a motivational speaker and consultant for AchieveMax®, Inc., a company of professional speakers who provide custom-designed seminars, keynote presentations, and consulting services. Harry's top requested topics include change management, customer service, creativity, employee retention, goal setting, leadership, stress management, teamwork, and time management. For more information on Harry's presentations, please call 800-886-2629 or fill out our contact form.