Check out our new section of book reviews to learn more about our latest addition, Who's Your Gladys, … a riveting journey to learn how to turn even the most difficult customer into your biggest fan.
In their new book, co-authors Marilyn Suttle and Lori Jo Vest combine years of experience to produce 224 pages of delightful content on a subject that is indeed critical to any organization concerned about the successful delivery of customer service in today's competitive marketplace.
Marilyn Suttle is the President of a personal and professional growth training firm (Suttle Enterprises LLC) through which she has presented training workshops and keynotes to thousands. From customer service to work/life balance, her relationship expertise helps people learn how to talk in ways that gain cooperation, inspire personal excellence, and create connected relationships both at work and at home.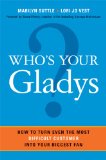 Lori Jo Vest has spent most of her career in business-to-business sales positions involving high levels of day-to-day customer contact. Lori has developed extensive expertise in customer service and business development. She currently manages Communicore Visual Communciations, a metro Detroit television production studio and consults with small businesses on methods to enhance their sales and customer service efforts.
Learn much more Who's Your Gladys from our review in our new book reviews section.You'll be "gladys" you did!
Harry K. Jones is a motivational speaker and consultant for AchieveMax®, Inc., a company of professional speakers who provide custom-designed seminars, keynote presentations, and consulting services. Harry's top requested topics include change management, customer service, creativity, employee retention, goal setting, leadership, stress management, teamwork, and time management. For more information on Harry's presentations, please call 800-886-2629 or fill out our contact form.